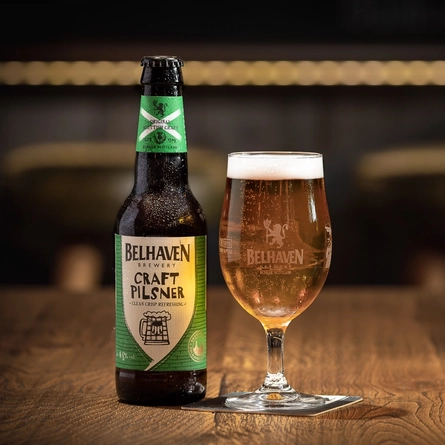 Belhaven Craft Pilsner
We blend Pilsner brewing techniques with Belhaven experience to create a brilliantly crisp lager imbued with Scottish character.
This wonderfully full-bodied Pilsner style lager at 4.8% ABV, is made with barley malt that imparts a satisfying biscuity aroma together with a fresh, light malty flavour and local water that contributes to super-clean finish.
Available in UK and export.
Allergen information: contains malted barley
Tasting Notes
Soft biscuit malt from the lager malt. Refreshing bitterness from Challenger and Northdown hops. Delicate herbal, spicy and floral notes from the Northdown and a hint of soft fruits.
Food Pairing
Spicy pit-style barbeque, pulled pork. Any curries and spicy dishes.
Bitterness
Sweetness