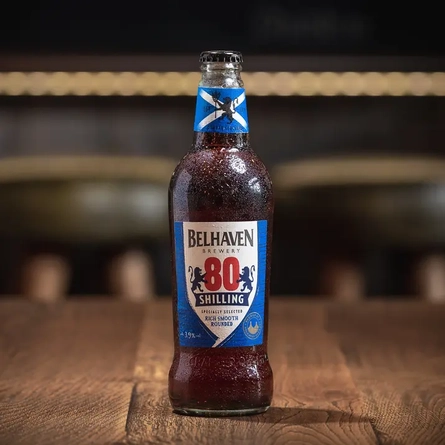 Belhaven 80 Shilling
Belhaven 80 Shilling, affectionately known as '80 bob', is a traditional style of ale typical of the East of Scotland.
Belhaven 80 Shilling is a superb classic, with a deep copper hue and light bronze creamy foam at a satisfying 3.9% ABV.
80/- is brewed using Belhaven yeast and allowed to ferment at a slightly higher temperature. This delivers satisfying malt flavours and layers of soft fruit with a toffee finish.
Once described as 'the burgundy of Scotland', experience 80/- in an unhurried atmosphere to fully appreciate this satisfying and complex character.
Available in UK.
Allergen information: contains malted barley
Tasting Notes
Pale malt gives satisfying 'Horlicks' maltiness and black malt adds balance to the sweetness. Challenger provides the bitterness and base note herbal hop character with Goldings adding a hint of orange peel.
Food Pairing
Turkey, pork, lighter meaty dishes and cheeses such as gouda and parmesan.
Bitterness
Sweetness