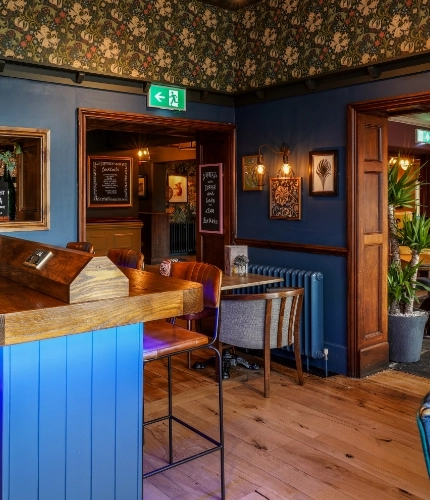 Feedback Survey
Provide your feedback to be in with a chance to win £1000
Providing you with a great experience means everything to us, which is why we want to hear from you. Please provide feedback of your last visit to one of our pubs in this survey.

And as a thank you, we will enter you into a draw with a chance to win £1000.
GREENE KING BREWING AND RETAILING LIMITED (the "Promoter") GUEST SATISFACTION SURVEY CONTEST (the "Contest").

FOR ANY INFORMATION REGARDING THE CONTEST OR THE GUEST SATISFACTION SURVEY PLEASE CONTACT THE PROMOTER

NO PURCHASE NECESSARY. A PURCHASE WILL NOT INCREASE YOUR CHANCE OF WINNING. INTERNET ACCESS, A MOBILE PHONE NUMBER, A POSTCODE AND A VALID EMAIL ADDRESS ARE REQUIRED.

These Terms and Conditions prevail in the event of any conflict or inconsistency with any other communications, including advertising or promotional materials. Entry and claim instructions are deemed to form part of the terms and conditions and by participating, you agree to be bound by them.
Terms and Conditions
Open to guests of the Promoter who are aged 18 years and over ("Entrants, you or your") and who are resident in the UK. You are not eligible to participate in the Contest if, during the Contest period you are (or you live with), or your immediate family member (parent, child, sibling and spouse of any of the foregoing) is, an employee, representative, or agent of the Promoter or any of their subsidiaries or affiliates.

For full details of pubs, restaurants and establishments participating in the Contest ("Participating Outlets") please go to www.greeneking-pubs.co.uk/find-us We reserve the right to add, substitute or remove Participating Outlets from taking part in the Contest at any time.

3.1 Unless you have consented to be contacted by us in accordance with paragraph 3.2 below, by entering this prize draw you consent to the e-mail address you provided in the entry form being:
3.1.2 used to administer this Contest; and
3.1.3 stored on our customer relations management database to ensure that we don't contact you by error in future.

3.2 If you have indicated that you would be willing to participate in future surveys, or have consented to receive further communication, via email, telephone, post or SMS, then your personal data, including but not limited to your email address, will be held in our customer relations management database and marketing information, including but not limited to information about the Promoter's email club, details of similar goods and services, promotions, surveys, prize draws and offers from the Promoter or and/or its Affiliates, will be sent to you from time to time.

The Promoter may download cookies to your computer when you log onto any Greene King website. For details of how we use cookies please refer to the Promoter's privacy policy at www.greeneking-pubs.co.uk/privacy-cookies-policy/.

4.1 The prize of £1,000 will be awarded to one winner each month for the duration of the promotion. The prize will be issued in the form of a single cheque.

4.2 The prize is not transferable, and must be accepted as awarded. Any applicable taxes are the responsibility of the winner.

5.1 There will be a series of distinct and separate Contests each lasting one (1) calendar month. The Contest is run by the Promoter across all its websites and brands for one month and all entries from all websites/brands are entered into a single draw for a single prize.

5.2 The initial Contest starts on at 12:00:01 a.m. on the 1 November 2017 and the final Contest ends on 30 April 2024 at midnight.

5.3 To enter each monthly Contest a Guest Satisfaction Survey ( "survey") must be completed each month to gain entry to the Contest for that particular month. Subsequent contests will follow each month beginning on the first day of each calendar month at 12:00:01 a.m. and end one month later on the last day of each calendar month at midnight, and a separate survey must be completed each month in order to enter.

5.5 To enter, you must complete the Guest Satisfaction Survey on one of the Greene King websites on which the Contest is running. Entry will be submitted to the draw for the Contest relating to the month in which it was received.

5.6 Complete the survey within the designated selection fields marked within the on-line contest form. All mandatory questions must be filled out prior to submitting your form. Surveys in which mandatory questions are not completed shall be deemed incomplete and will not be entered into the draw. Mandatory contact information for entry into the contest includes, but is not limited to: email address, mobile phone number and postcode. For each survey properly completed online, the Entrant shall receive one (1) entry into the draw, limited to a maximum of four entries per email address per month, and any entries in excess of four will be eliminated from the Contest.

5.7 For the purposes of the Contest draw, the limit of four entries per month applies to each email address.

5.8 For each monthly Contest draw, online entries must be received by the Promoter by the closing date for that Contest.

5.9 All surveys and information become the copyright and property of the Promoter and will not be returned. Postcodes may be used by the Promoter for customer mapping purposes.

6.1 Each month on the 10th business day, the Promoter will hold a random draw to identify the winner or winners for the Contest which took place in the preceding month.

6.2 All prize draws will be held at the offices of the Promoter.

6.3 If an Entrant chooses not to accept the prize, the prize will be deemed to be forfeited and no substitution or other compensation will be awarded.

6.4 The selected Entrant(s) will be contacted by email, phone or text and must accept and return the conditions of the prize by completing (within 14 days of contact) a declaration, release of liability and consent to the use of photographs and related publicity materials (the "Declaration").

6.5 The Declaration confirms that the winner:

6.5.1 complies with the Contest Rules outlined in this document, and;

6.6.2 grants the Promoter exclusive permission to use the photographs and publicity materials (together the "Materials") featuring the winner receiving a prize for any of its commercial or non-commercial purposes in all media, including without limitation, in the Promoter's printed publications, presentations, promotional materials, in advertising the Promoter's goods or services or on the Promoter's website (Specified Purposes), in its original format or edited or altered in a way which the Promoter deems appropriate and;

6.6.3 does not object to the Promoter storing copies of the Materials for the Specified Purposes or storing contact details including address, telephone numbers, including landline and mobile and email address on its database in order to contact the winner.

6.7 If the winner does not comply with these Contest Rules or has not completed the Declaration within the appropriate timeframe, that Entrant will be disqualified and an alternate Entrant will be randomly selected from the eligible entries received.

6.8 The prize will be made available to the winner within 4-6 weeks of receipt of the Declaration for collection at the Promoter's pub for which the Entrant provided feedback as part of the survey, or at one of the Promoter's pubs which is nearest to the Entrant's postal address.

6.9 A list of previous contest winners and their home counties will be published on all of Greene King websites on which the Contest is running.

The chances of winning the prize depend on the number of eligible entries received.

8.1 By entering, Entrants agree that all decisions of the Promoter will be final and binding on all Entrants. For purposes of UK regulation, the Contest described herein is a prize draw.

8.2 By entering, Entrants agree that the Promoter or its guests, affiliates, subsidiaries or parent companies shall not bear any liability for, and Entrants agree to release, indemnify and hold the Promoter, its guests, affiliates, subsidiaries or parent company harmless from, any losses, damages, claims, actions and any liability of any kind resulting from participation unless prohibited or restricted by law.

8.3 By entering, Entrants agree that the Promoter shall not bear any liability for (a) entries which are illegible, incomplete (or otherwise improperly completed), or destroyed (including, in the case of on-line entries, as a result of failure of the website or technical problems or traffic congestion on the Internet), (b) the loss, theft or misuse of the prize, or (c) any property damage in any way attributable to this Contest or the prize (including damage to any telephone network or lines, on-line systems, servers, access providers, computer equipment or software) or resulting from downloading any material from the Website.

8.4 No correspondence will be entered into except with the winner who wins the prize.

8.5 The Promoter reserves the right, in its sole discretion to cancel, modify or suspend the entry form download portion of this Contest should a virus, bug or other cause beyond the reasonable control of the Promoter corrupt the security or proper administration of the Contest. In the event of cancellation, termination or suspension, at its discretion, Promoter may select a winner from eligible, non-suspect entries received for the Contest but prior to the event requiring such cancellation, termination or suspension.

8.6 Any attempt to deliberately damage any website or to undermine the legitimate operation of this promotion is a violation of criminal and civil laws, and should such an attempt be made, the Promoter reserves the right to seek remedies and damages to the fullest extent permitted by law, including criminal prosecution.

8.7 Surveys obtained or submitted through fraudulent means or through an abuse of the Contest rules or in any way tampered with, forged, mutilated, illegible, incomplete or mechanically reproduced may, at the sole discretion of the Promoter, be disqualified.

8.9 For the name of the winner for a specific monthly contest, send a self-addressed envelope to GREENE KING BREWING AND RETAILING LIMITED GUEST SATISFACTION SURVEY CONTEST at Sunrise House, Ninth Avenue, Burton-upon-Trent, Staffordshire, DE14 3JZ within thirty 30 days following the last day on the month in which the Contest closing date falls. You must specify the applicable period for which you are requesting a winner's list. The winner's list will only be sent after the prize has been awarded.

8.10 In the event of any dispute the Promoter`s decision is final.

8.11 These rules are governed by English Law and are subject to the exclusive jurisdiction of the English Courts.

The Promoter is Greene King Brewing and Retailing Limited whose registered address is Westgate Brewery, Bury St Edmunds, Suffolk IP33 1QT.